Welcome to Mohren Pure Naturopathy
Hi I'm Victoria Mohren and I live in the tropics of North Queensland, Australia. I'd like to share with you my passion to assist and educate those searching for higher level health according to the pure naturopathic philosophy of Nature Cure and its principles of Natural Living and Natural Healing.
Why do I believe Pure Naturopathy is so important?
Because at the core of its practice, Pure Naturopathy (also known as Nature Cure) is the only health care philosophy that correctly identifies and removes the cause/s of disease conditions, this is essential for improved and long-term health and wellbeing. Because without removing the cause, you can never hope for a cure.
My interest in natural health began at the age of 16 when conventional medical advice repeatedly failed to cure my recurring symptoms of ill health.  I realised that pharmaceutically-induced symptom suppression did not equal a 'cure' to disease. The fact is, for you to be healthy, you must live healthfully! There simply is no other road to real health!
I began my lifelong quest for health knowledge for personal reasons … my own wellbeing and understanding. However, after years of personally studying and practicing pretty much every modality of alternate and natural health, I learned the truth of natural health and healing and from this knowledge came my calling as a natural health practitioner.
I graduated from The International Institute of Nature Cure Studies in 2015. I practice at my clinic in Cairns, Australia, as well as having an extensive online presence that allows me to assist both Australian and international clients (via Zoom and Skype consultations) .
I am passionate about helping those who want to help themselves. I believe everyone has the capacity to take their health into their own hands. I believe through education I can empower my clients to achieve their highest level of health via natural methods.
My practice assists in relief from a range of disease conditions, however I have a particular interest in assisting families in the areas of Natural Fertility, Natural Family Planning and the care of Women, Babies and Children.
Education:
Griffith University Brisbane, QLD- graduated 1992
Degree- Bachelor International Business
International Institute Nature Cure Studies- graduated 2015
Degree- Nature Cure Practitioner
Billings Life Australia- Graduated August 2019
Accredited Billings Ovulation Method Teacher
Professional Associations:
Victoria is a member of the International Society of Nature Cure Practitioners
Victoria is an accredited Billings Ovulation Method teacher with Billings Life Australia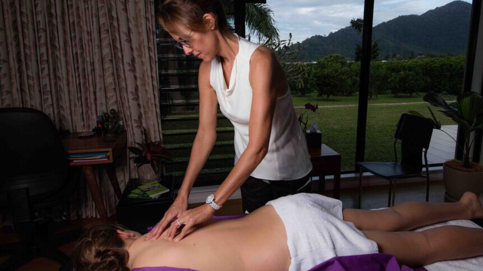 "I first consulted with Victoria when my son was 5 months old. He had developed several nasty patches of eczema, which were causing him discomfort and me concern. I had first consulted with a GP and was advised the only treatment would be to use a powerful steroidal cortisone cream on his tiny little body. I did some homework on the composition and side effects of such medications and decided they were far too strong (not to mention dangerous) to use on one so young. Victoria helped me to understand my son's condition, remove the causes and showed me how to handle his delicate skin. He rarely has any skin flare-ups now and I have never needed to resort to the harsh treatments I was told I would have 'no choice' but to use. Victoria has assisted me with any health concerns I have had for my son and myself, and the efficacy of her advice has always been proven by the results. I would not hesitate to recommend Victoria to any mum who is looking for a natural way to raise her children."
- Lara C, Melbourne Australia
"It is an honour to recommend our esteemed colleague, Nature Cure Practitioner, Victoria Mohren. Victoria follows the principles and practices of Natural Living and Natural Healing in both her personal and professional life. This is reflected in the health of herself, her children and clientele. She is a gifted diagnostician and treatment planner, assisting many to health restoration through the Nature Cure methods. She is unique in her ability to identify and remove causes, provide the biological elements for health, and utilise rest strategies for health recovery. Victoria uses no curatives but relies steadfastly in the 'vis mediatrix naturae' (the body heals itself)."
- Catherine Adams-Hinton, Kevin and Katy Hinton Health Educators
"Victoria was recommended to me by a friend. I needed to lose weight and wanted to improve my general health. After an initial face-to-face consultation, Victoria and I had a series of follow up sessions via Skype. As I am deaf and needed to lip read, I was initially a little apprehensive about how effective this would be, but it worked very well. Victoria's diagnosis was valuable as it gave me a clear picture of where my health was at and finally knowing the causes gave me peace of mind. Follow-up sessions were very informative and educational. Victoria has an in-depth knowledge of health and I felt very supported during the process. I now feel empowered to take my health into my own hands and I know Victoria is always there to provide any backup or support I need in the future. I would highly recommend her to anyone who wants to take control of their own health destiny. You'll be glad you did!"
- Karen Lloyd, Brisbane Australia

"After working with Victoria over a period of time for my rheumatoid arthritis, I can highly recommend Victoria as a Nature Cure Practitioner. Whether you are someone whose health has deteriorated, or have an illness of some kind and are looking to restore your health, I would recommend you to Victoria. Even if you are someone who is relatively healthy and simply looking to educate oneself further on the subject of Natural Living and Natural Healing, then Victoria's guidance and assistance will be most beneficial"
- James O, Esperance Western Australia

"Thank you, thank you so much and so thankful for the book you recommended. Whilst strolling the beach this morning I was trying to put into words how I am feeling after our first two sessions, and I finally came up with 'freedom' and 'relief'!! Freedom to stop scouring the internet for the latest powder or herb! Freedom to unsubscribe from the countless emails I get from people touting the latest juice fast or super smoothie, etc…Freedom that I never have to spend another cent on any products…and I'm not even game to think of the money I have wasted so far! Now I know that I am free of ever having to waste any more money!! Freedom to not have to think constantly about what I should eat, so easy and simple!! And relief about exercise. I have been such an over exerciser, that it was actually a relief for you to tell me I only need 30 minutes a day. Yippee!!"
- Melissa Close, Yeppoon Australia

"The search for the most natural form of healing led me to Victoria. Despite the distance between India and Australia, the consultations progressed smoothly over Skype and email. Victoria is a methodical, hands on educator with in depth knowledge of Nature Cure. She guided me over a period of few months until my body raised a fever and I was comfortable in her care during the four day fast. She says more healing is expected and I am grateful to have her solid support."
- Anubha Kothari - Bangalore, India